It is of the utmost importance that staff in health and care feel safe, know how to act, and are protected from being infected in their work.
Protective clothing should be used on the outside of the work clothes during care and nursing operations where there is a risk that the work clothes can be soiled through direct contact with a person, their body fluids, or other biological material (for example skin and skin fragments).
Adjustable for 180 Degrees.
100% PP Raw Material Guarantee is Provided.
Washable
Made of Shatter-Proof material
CE, ISO 9001, ISO 13485, EN 166 Certificates Available
REINFORCED ISOLATION GOWNS
NON-WOVEN REINFORCED ISOLATION GOWNS​
Material – SS 45 GR
Full Weight – 90 Gr
Size – S, M, L, XL
Packing: 50 pcs / ctn
Carton Size – 60X40X40
Applications – Hospital Clinical medical and patients, laboratory
Sterile or Non-Sterile generable
NON-WOVEN DISPOSABLE PROTECTIVE CLOTHING
3-panel hood, reinforced triangular gusset panel
2-way zip and storm flap with sealable tape
Elasticated back and ankles to better freedom of movement.
Material – Laminated Non-Woven Fabric with PP/ Breathable film
Type / Approvals – Certain limited splash, spray and solid airbourne particle protection (Type 3, 4, 5 & 6 )
CE Category III, EN 1073-2 Particulate Radioactive Contamination
EN 1149- 1 – Electrostatic Properties
EN 13034 Type 6 Liquid Splash
EN 14126 – Infective Agents (Biohazard)
EN 14605 Type 4 Liquid Spray
EN ISO 13982-1 Type 5 Hazardous Dusts
Full weight – 210 Gr
Size – S, M, L, XL
Color – White
Packing – Non-Sterile: 40pcs/ctn
Carton Size – 60X40X40
Applications – Hospital Clinical medical and patients, laboratory.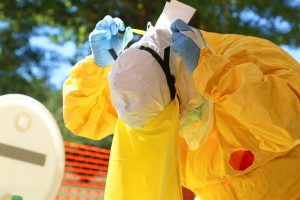 Plastic apron
We supply plastic apron for use in healthcare. It can effectively be used to protect work clothes and thereby prevent the spread of infection between patients or the person receiving care.
Protective coat
In healthcare, protective coats with different functions are in demand, depending on where and how they are to be used. We have a wide range of coats with different materials, colors and types of buttons.
Protective cap
Protective caps provide complete head protection and provide the most protection against the hair with its wide coverage of the face. As well as its large coverage, you also benefit from the fact that it is easy to detect items, which reduces the risk of foreign objects.
Disposable overshoe
Keep your shoes on and keep the dirt away with our disposable overshoes. It protects carpets and floors, is easy to put on and is perfect for working indoors, for house tours, in preschools et cetera. It also dramatically reduces the need for cleaning.
In order for workwear to be free of infectious agents, it must be possible to wash it at least 60 degrees.
The caregiver and the person responsible for the activities within the care must ensure that the person who provides / washes the clothes follows the rules so that infection does not spread. Those responsible must also quickly set up the processor and routines needed to ensure this. We provide protective clothing, and our customers must follow the recommendations to take advantage of our supply. 
We only provide high-quality protective clothing which has high standards. In order to match up with this quality, we carefully select our suppliers and guarantee the best quality available.