Disposable Medical Gloves
With us you will find disposable gloves for different purposes
We help you choose the right glove for every purpose. The most important question when choosing a glove is what it should be used for and what kind of protection is required for the intended purpose. Therefore, we have chosen to invest in the highest quality of both medical gloves and protective gloves. Choosing a glove from us guarantees that all relevant standards are met and that supplementary tests are performed.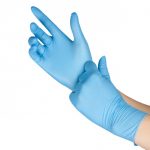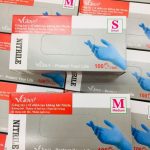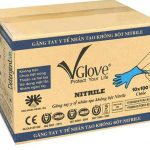 Size: X-Small, Small, Medium, Large, X-Large
Thickness: Palm – 0.06mm, finger – 0.08mm
Color: Blue
Lead Time: 7 Days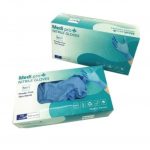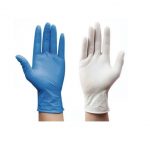 Specification

Certificate – FDA, CE, EN455, ASTM D6319

Size

X-Small, Small, Medium, Large, X-Large

Thickness

Palm – Min 0.06mm
Finger – Min 0.08mm

Color

Blue, White

Packaging

100 pcs / box, 10 boxes / carton = 1000 pcs

Carton Size & Weight

34 X 24 X 24 CM
~13.3KG

Made in Vietnam
MG PRO MEDICAL NITRILE GLOVES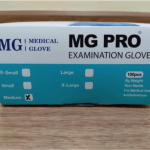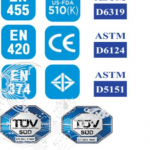 Vinyl Gloves
Our vinyl gloves are free of both powder and latex protein to counteract allergic reactions. The vinyl gloves can be used for handling and preparation of non-fatty foods, for cleaning and simpler care tasks. At us, you will also find vinyl gloves in cat III class.
Nitrile Gloves
Our nitrile gloves are free from powder, latex protein and phthalates. They are suitable for all types of care tasks and are approved for all handling of food and are well suited for handling chemicals. The nitrile gloves are also available in four different types: regular, extra long (Hospicare), extra thin (Xlite) and extra thick (Xpert). We also have special gloves for the toughest requirements.
Latex Gloves
Our latex gloves are powder-free and food approved and are suitable for all types of care-related tasks. Latex gloves offer a good barrier and have a smooth surface for better contact properties. Latex is a natural product produced from the milk juice from rubber trees.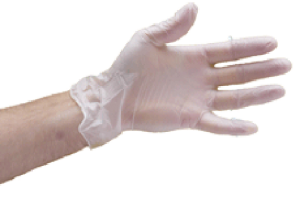 Plastic Gloves
We also sell plastic gloves that are well suited for lighter work in cleaning and food preparation. Plastic gloves are available in two different lengths, one normal length and one that covers the entire arm up to the shoulder.
AQL is a guarantee of quality. The AQL value is one of the most important reference figures for quality in mass production. But what exactly does that mean? AQL stands for Acceptable Quality Level.
During manufacture, a predetermined amount of gloves are selected for random testing according to a carefully defined procedure. These random samples are then tested in accordance with statutory standards and specifications. From the results, an assessment of the quality of the entire batch can be made. The higher the requirements for a product, the stricter the prescribed guidelines. AQL is therefore a statistical procedure for determining quality. The AQL value is always reported on each package and Nordic Medical Supply follows the requirements for examination gloves in healthcare, an AQL of a maximum of 1.5.