Personal protective equipment used in the workplace must be safe. No one should risk becoming ill, injured or dying from their job.
Aerosols and fine particles are two of the most insidious health risks in the work environment and are almost invisible in our inhaled air. Filtering face masks provide protection Readmore>>
Protective clothing should be used on the outside of the work clothes during care and nursing operations where there is a risk that the work clothes can be soiled through Readmore>>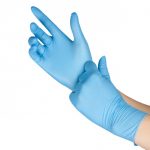 We help you choose the right glove for every purpose. The most important question when choosing a glove is what it should be used for and what kind of protection is Readmore>>
Self-manufactured protective equipment or equipment that has not undergone an assessment process shall not be used in work operations where there is a risk of exposure to Covid-19.
Why Protective Equipment?
The employer is always obliged to protect its staff against risks in the work environment. It is of the utmost importance that staff in healthcare feel safe, know how to act, and are protected from being infected at work. It is equally important that they have knowledge of how infection among patients and caregivers is prevented, through basic hygiene routines and protective clothing and protective equipment.
Areas of Use
Personal protective equipment is the equipment workers wear for their own safety. There are different types of protective equipment. In the case of protection against infection, these can be, for example, goggles, visors, protective coats, mouth guards, and respiratory protection. Protective measures, such as personal protective equipment, must be based on the assessed risk in the current care and nursing situation.
High Quality Standards
Today it is more important than ever to ensure the quality of the products and that the CE certificates are correct. Nordic Medical Supply is committed to the highest standards and we aim to deliver the qualities and quantities as required.
Want to know more?
Contact us, we are happy to help!